Flu vaccine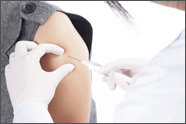 Do your best to avoid influenza this Winter! The flu vaccination is now available at Chambers Pharmacy. For more information click here.
Welcome to Our Site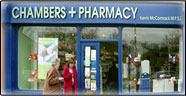 Fáilte romhaibh uile! Welcome all to Chambers Pharmacy's website.

We hope that this site will complement the personal attention you receive in the pharmacy and will act as a valuable source of information.
Please visit the website as often as you can to read the regular updates and don't hesitate to contact us if there is something you would like included on the site. Thank you for your continued custom at the Pharmacy and we look forward to serving you long into the future. Your well-being really is our concern and we're here to take good care of you.


Best regards,
Kevin.
March's discount code word is: arret
Mention this code word as you make your purchase at the Pharmacy and you'll receive a 5% discount.
Health Topics
Meningitis
This is an infection or inflammation of the membranes covering the brain and spinal cord (meninges) that can be caused by bacteria or viruses.
Learn more
Health Screening

Make an appointment at the Pharmacy to have a health screen. Blood pressure and BMI readings are free and available whenever you like. Click
here
for more details.
Fragrance

Click here to see our extensive range of women's and men's fragrances and remember that we can make a gift set to order with any of these fragrances or procure your own personal favourite if it's not on the list!
Learn more